Automaton redefining the standard
THE SPOTLIGHT ON COMMERCIAL DIRECTOR RENE AMADOR
Great news! John Wallace, VP of Production at StudioNow, singled out our creative director Rene Amador in a company wide newsletter to AOL/StudioNow:
"We are thankful for all the great filmmakers in our network who consistently deliver high quality content and want to take a moment to highlight Rene Amador in Los Angeles, CA: check out this pre-roll spot he created with us for Verizon: http://aol.it/dE7CfL."
You can also read the full newsletter here.  We recently completed a three spot campaign for Verizon's launch of their 4G LTE service, which has been so well-received by the client that there may be more on the horizon.  To view those ads visit our work page.
BLACKBERRY and SPINNER/AOL MUSIC HEAD NORTH
Another recent project was prompted by Blackberry and Spinner/AOL Music put on a pop-up concert series in the US, attracting huge name talent at offbeat venues like Grand Central Station, bringing music to the masses. Now the Spinner Summer of Concerts, Powered by BlackBerry, may soon be coming to Canada. Here's the promo we made to get people pumped up about it and get the ball rolling on this multi-million dollar event: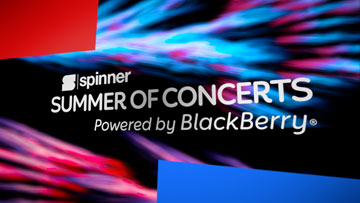 Click the thumbnail to play the video or see all our work